15 Hitchhiking Tips To Increase Your Chances of Getting Picked Up+ Staying Safe
Whether you're a hitchhiking virgin or you've crossed entire countries through the kindness of strangers on the road, these 15 tips will help you get picked up and stay safe doing it.
The first time I hitchhiked was out of necessity. I didn't have anyone to give me a ride from rural Denmark to the airport. The trains didn't run at a time that would make sense for me to take one, and I didn't have the funds saved to stay overnight in the city. Thanks to two people that welcomed me into their cars, I was able to catch my flight on time. Hitchhiking can be an amazing way to travel slowly, decrease your travel impact, and experience your journey in a completely different way. Even if you don't think you'll be hitchhiking anytime soon or ever, read these tips and keep them in mind, because you may just need them one day.
1. Smile.
The first thing a driver will notice is your face. Smile at everyone that passes by. If you look bored, skeptical, tired, or impatient, you don't look very approachable. I've seen hitch-hikers play a small instrument or do a friendly light-hearted dance while standing with their thumb out. Make yourself the kind of person a stranger would literally invite into their car.
2. Dress nice.
How many times have you seen a frazzled traveler lugging a suitcase down a street? They look a little rough. Hair messy. Possibly wearing sweatpants or a hoodie.
How many times have you seen a dirty backpacker? Even if the answer is once, you know that they only own two shirts, and the one pair of pants they have on.
Aim to be neither of these people. Dress as if you're about to make one of the most important friends of your life, because you are. You're trying to attract someone that will take you to your next destination out of the kindness of their heart. Be respectful to them and their car by dressing for the occasion. If you have a limited number of outfits, dress your outfit up by wearing jewelry, make-up, or even a scarf styled well. Avoid low cut outfits to be sure you don't attract the wrong kind of ride. For men, look more approachable by shaving or touching up a beard. Style your hair, and wear a button up shirt. Do your best with what you have, or buy something second hand.
3. Be clean.
I have been that smelly backpacker.
It's not my favorite, but sometimes travel has that effect. However, if you plan on trying to charm your way into a free ride in a strangers car, please be clean. Take a shower or at least take a sink bath. Brush your hair. Wash your hair. Don't wear smelly socks.
I always travel with wool Darn Tough Vermont socks, and they take a very, very long time to start smelling. (They're linked, because I love them, and I know you'll love them too. No, Darn Tough doesn't sponsor me. I just really love their socks). They're easy to wash, and they dry quickly.
Don't wear smelly or dirty clothes. Wash some in the sink the night before if you absolutely don't have a way to wash clothes. Be approachable and respectful to the person that will pick you up by not leaving a layer of grime in their seat or a smell behind when you've left. Use some perfume/cologne. Ask kindly to borrow some if you need to.
4. Have your things packed well.
Whoever picks you up will also be picking up your belongings. If you have more than one bag, don't have your bags scattered around. It looks a little inconvenient to stop and pick you up if you have to take the time to round up your belongings. Have them all in one place, preferably right near you, and pack them in such a way that you can put them in a car in as few trips as possible.
The first time I hitch-hiked, I had a big backpack, a little backpack, and a small yellow purse. I was able to grab my things in one go, and throw them in the car.
The newest generation of the exact backpack I used is linked below. The red one is the womens fit, and the blue one is the mens fit. (Click on the picture to find out more).
5. Do not make your belongings vulnerable.
I have never had a bad experience hitch-hiking, and I don't know anyone that has had a bad experience hitch-hiking, however, if something did happen, you want to be able to grab your belongings very quickly.
Try not to put anything in a trunk if you don't have to. If you are able to hold your things, sit them in your lap or on the floor under your feet instead of away from you. If you're not able to sit near all of your belongings, have at least something near you. Keep your passport, money, and most important belongs on you at all times as a rule. Always.
I now carry a Kavu bag that can sling across my whole body without being bulky. I am very grateful that I've never had anything stolen, but I have lost a few things. Keep your belongings together, and this is much less likely to happen. It would be unfortunate to accidentally leave something in someone's car. You probably won't be getting that back.
Carrying a backpack comes in handy while doing this type of traveling. It's easy to just grab it and go.
6. Make eye contact.
Create a connection with the people driving past by connecting to them in one of the most basic human ways. Look into their eyes and smile. Some people will awkwardly look away and pretend they didn't see you. Just keep smiling. Try again with the next person.
7. Stand, don't sit.
If you're sitting, you don't look like you need a ride.
Even if your thumb is up, you won't seem like you're ready to go. If you need to take a break from standing and smiling, then take a break and recognize you will probably not be picked up during that time. Eat something, drink some water, then stand up again, hold your thumb up, and smile.
8. If you have a dog, make it more approachable.
I was hitchhiking in Norway with my dog after getting off at the wrong train stop. She looks like a friendly little ball of fur to me, but some people are afraid of her. When we travel, she wears a bandana. It makes her look very approachable.
We were picked up in Oslo by two undercover police officers. They were kind and dropped me off where I needed to go. They complimented Ava on her bandana. It turned out to be nice touch.
Her leash and collar were both handmade, and it classes her up a bit. Don't use a choke collar or chain leash. That looks scary. If you have a backpack for your dog, put the backpack on them. Dogs with backpacks seem well-behaved and invoke images of working dogs. Make sure to brush them, and don't bring a dirty dog into someone else's car. Clean them up the best you can.
9. Choose a good location.
Make sure you're standing in a place that won't be a problem for someone to pull over. Look for areas that are safe to pull off the road, are going the correct direction, and possibly near a highway or main road. (Not on a highway).
10. Have a sign.
Drivers are much more likely to pick you up if they know you're going in the same direction they are. If you're going the airport, put airport or the city the airport is in and ask to be dropped off at the airport once you're on the way to the city. Write in big letters, and make sure it is visible to drivers.
11. Be patient.
The first driver that passes you by will probably not stop. The second, the third, and the fourth probably won't stop either. It could take a couple hours or even all day for someone to welcome you into their car. If you're going far, it will take longer to find a ride than going right down the road.
It's important to be patient and not look antsy. If someone driving by senses desperation or you look annoyed, you'll be repelling people instead of attracting them. Relax, bring some snacks, listen to a podcast, do some squats to keep your legs from getting stiff, and enjoy your time smiling at drivers.
12. Follow your intuition.
This is a big one.
You don't have to get in a car just because they pull over.
If anything seems weird to you, if any part of your body tells you no, if you get a weird feeling: Do not get in the car.
There's also no obligation to stay in a car. If you start to feel uncomfortable, do your best to politely thank your driver and tell them you actually need to stop sooner, because of whatever reason would seem appropriate at the time. If they don't stop, plan to get out as soon as they stop at a stop sign, traffic, or stop light. Grab whatever bag you can, and get out. This is obviously a worst case scenario, and it is not the norm.
The best way to get out of a bad situation is to not be in one in the first place. Your gut will not lead you wrong. Listen to it.
13. Make friends.
Your driver doesn't know you, and you want to ease any skepticism they may have by being as friendly as possible. If you can afford it, ask them if you could chip in for gas money. Ask where they're going. Thank them for picking you up.
You have the opportunity to have an amazing conversation with someone that put their trust in you. You attracted them for one reason or another. Show your gratitude by being interested in their conversation.
Being a good listener is sometimes the only thing we have offer someone, but it can be enough.
14. Be flexible
Not everyone will be going to the exact place you're going. Aim for getting closer. You may have to take multiple rides. If you're able to get a little closer, take the ride, then start hitchhiking again. There might not be anyone going in the exact direction you are. If you try to wait for someone that is, you may miss out on a opportunity to get halfway there. Once you're closer to your destination, drivers are more likely to be going wherever you're going.
15. Have a Plan B.
You'll most likely be picked up. I've been picked up five out of six times. The one time I wasn't picked up, I had to walk. It was a really long, cold night. Know what you're going to do if you don't get picked up. Look into public transportation, uber, and any other options you may have before you start hitchhiking. If you're taking a train, know when the last one will leave so you can move onto Plan B and catch the train. Allow yourself plenty of time- start in the morning- to stand outside in your hitchhiking spot and be picked up.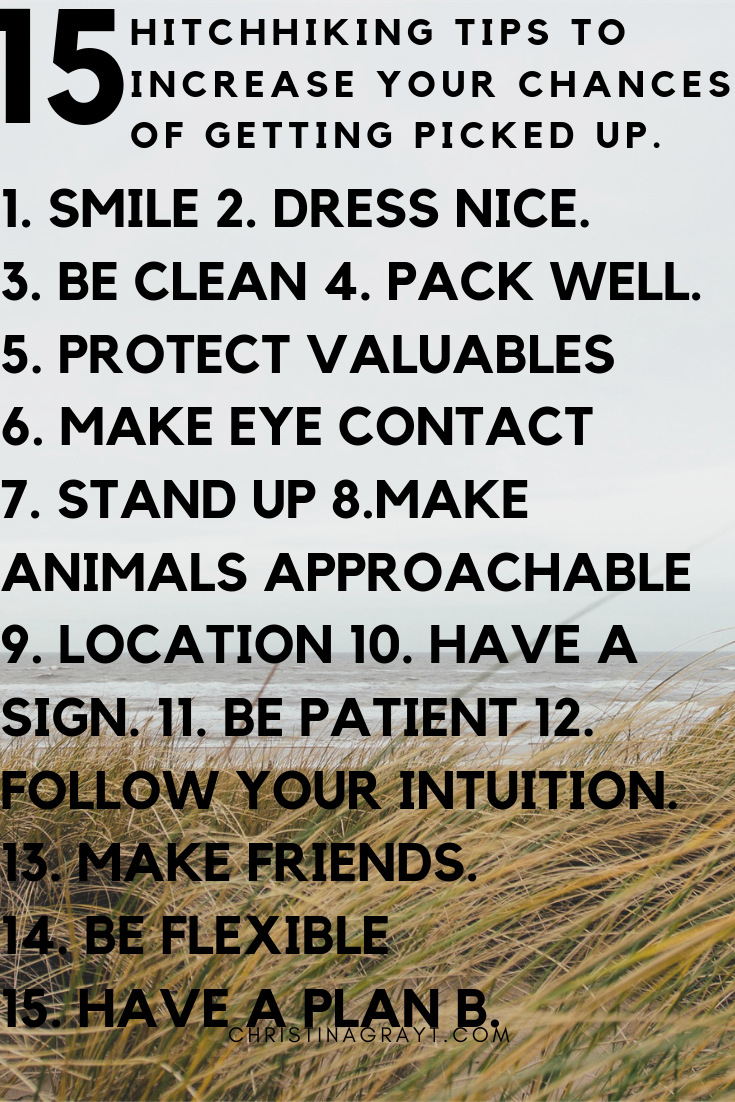 Allow the kindness of strangers into your life.
While traveling, the kindness of strangers is the most incredible thing to experience. Allow the opportunity to experience this by putting yourself out there and hitchhiking. My first time hitchhiking, I was picked up by an immigrant from the middle east in Nykobing, Denmark. He was so kind. He told me about working with solar energy in Denmark and improving the wind turbines. He stopped at a gas station and bought me a Coke. He offered to get me whatever I wanted, but I was a little shy and only asked for a Coke even though I was hungry. Four years later, I remember him fondly, and I've hitchhiked quite a few times since then.
Push your comfort zone.
Get amongst it.
Know people are kinder and more amazing than we give them credit for.
Allow for opportunities to be surprised.
Happy hitching.
Leave a comment if you have any hitchhiking travel stories or another tip to add! If you found these helpful, don't forget to pin to Pinterest!